About the Image Initiative, Inc.
The Image Initiative, Inc., aims to Enlighten, Engage, and Empower! young women of color in Syracuse, New York.
History of the Image Initiative, Inc.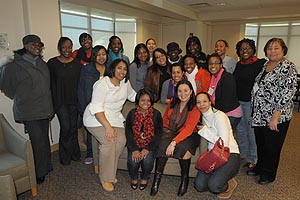 Nicole Watkins founded the Image Initiative, Inc. in 2005 while attending Syracuse University and engaging in community service. While there were myriad community programs directed towards the city's young men (with good reason), Nicole noticed a lack of programs focused on its young women. Nicole saw a need to address specific issues young women of color deal with, particularly teenage pregnancy, low self-esteem, and relationship violence.
As part of a course at Syracuse University with Dr. Mary Tschirhart, the Image Initiative Inc., an organization aimed at empowering young women of color, was conceptualized. Dr. Tschirahrt encouraged the project, and Dr. Katina Stapleton worked with Nicole to finish developing the concept and launch the organization. The Image Initiative has evolved from an idea on paper to an organization that annually touches the lives of hundreds of Syracuse's young women of color.
I think every individual has…her own power, and it's a matter of working, taking time and defining what that power is.
- Jill Scott